6 Clever Remodeling Ideas for More Storage
Feb 12, 2016
6 Clever Remodeling Ideas for More Storage
Some of us find ourselves with too much stuff and not enough space. You can easily get rid of your things, but you can also increase your storage areas for those items you're unable to part with. These projects will make you want to do some remodeling to make your home prettier and more efficient at the same time.
1. A Murphy Bed
Do you have an extra bedroom that serves as a playroom or an office? You can make it double as a guest room with the help of a Murphy bed. Murphy beds typically lift up from the foot of the bed and fold into the wall or into built-in storage along the wall. Plus, building a Murphy bed isn't terribly difficult to do yourself. This frees up a ton of floor space for you and your family. When guests come over, all you need to do is pull your Murphy bed down and make them feel right at home.
2. Stools on Hinges
If your kitchen space feels cramped and you have an island or breakfast counter, consider installing stools on hinges. Stools that swing in and out on hinges can give your kitchen a more industrial or rustic feel. Swing them out for extra seating around the kitchen and then tuck them back in to save space. Bonus: You don't have to worry about little kids accidentally tipping them over.
3. Window Seat Storage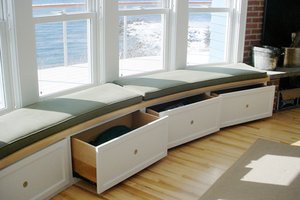 4. Baseboard Storage
Another great storage hack for your kitchen is installing drawers in your baseboards. These drawers can be wide and deep, making them perfect for lots of cookie sheets, cupcake tins and cutting boards. You can install them yourself or have a professional do it. Just think of all the wasted space underneath your cabinets.
5. Build a Platform Bed
One of the coolest IKEA hacks there is: building a platform bed out of kitchen cabinets. There's aYouTube tutorial that will show you what you need and how to build it. If you're going to take up the space for a bed, you might as well use that space for some awesome storage!
6. Under-Stairs Storage
What stuff do you have sitting around that you wish you could just hide? The space under your stairsis the perfect place for those things. You can have that space remodeled so shelving pulls out from the wall. It is great for boots, shoes, coats, purses, board games and towels. Anything you place on a shelf or in a coat closet could go under your stairs. You could even make yourself a pantry for canned goods if you wanted to.
You don't need a bigger house to hold all of your things. You just need to utilize the space you already have.